Reviews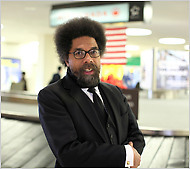 By CARA BUCKLEY
Published: January 22, 2010

Cornel West, 56, has many roles: Princeton professor, philosopher, fiery orator, civil rights activist, classical violinist and actor (in two "Matrix" movies). On weekends, Dr. West travels the country delivering lectures, being, in his own words, "a bluesman in the life of the mind, a jazzman in the world of ideas, forever on the move."


Ozier Muhammad/The New York Times
GOING The Princeton scholar Cornel West, at Newark's airport, says he has never spent a weekend in Princeton.
Related
Times Topics: Cornel West
HEEDING THE CALL I've never spent a weekend in Princeton. I would like to be at home, but my calling beckons me. I've got places to go, from schools to community centers to prisons to churches to mosques to universities to trade unions. There's academic lectures, political lectures, religious lectures. It's just my regular weekly travel. The aim is to touch minds and settle souls; so you instruct as well as delight.
EARLY RISER I usually get up in a different part of the country every Sunday, usually very early, about 6:30 a.m. It's just the habit, you know. I'm traveling, so I've got to get moving. I usually hit four cities in a weekend.
THE PLACES HE GOES All over. This past weekend, I was in Seattle, Oakland, Sacramento and Chicago. Next weekend, I'm going to Dallas, Houston and back to Chicago. I stay in hotels. They provide for me. None of this is out of my pocket; I'm as broke as I can be.
FAITH-BASED Am I religious? Am I a black man born to my parents, Irene and Clifton West? I am, indeed, indeed. I am a profoundly Jesus-loving free black man who bears witness to truth and justice until the day I die.
WHICH CHURCHES? Christian and Baptist. Funky Baptist, which means you focus on the blood at the cross where you find the love and freedom to bear witness to truth and justice. And funky as in George Clinton-and-James Brown funky, as opposed to deodorized.
FAVORITE HOUSES OF WORSHIP If I can, if possible, I usually go to a black Baptist church. Concord Baptist in Brooklyn. Enon Tabernacle Baptist in Philadelphia. Abyssinian in Harlem, with my dear brother Calvin Butts. I've spoken at his church three times. And Mother Zion Church on West 137th Street. I just spoke there. I'm not an ordained or licensed preacher, but they ask me to preach anyway.
NO BREAKFAST I haven't had breakfast on a Sunday since 1984.
WHAT HAPPENED IN 1984? We won't go into that. It was a special Sunday. But I always have water. It's decaf coffee from Monday to Thursday.
HITTING THE BOOKS Downtime is reading; I'm always reading on the plane, whatever the reading is for course work the next week. I'm also always rereading the classics, Plato, St. Augustine.
EVER READ FLUFF? I might pick up Time or Newsweek and take a peek.
PREPPING FOR CLASS I try to shoot to be home by 8 or 9 at night. I like to get home and wash my clothes. I have to read all night; I have to be real fresh for class. I like to read two or three hours every night. Right now I'm reading Robert Brandom, one of the great pragmatic American philosophers. I read until 2, 2:30 a.m. I don't really need that much sleep.
IN THE COMPANY OF GREATS I've been married three times. I'm married to my calling, but I'm not married to a particular woman. I have no pets. My apartment is full of books and records, the light of Toni Morrison and John Coltrane. And Chekhov, everywhere.